Cosmetic and Restorative Treatments for Chipped Teeth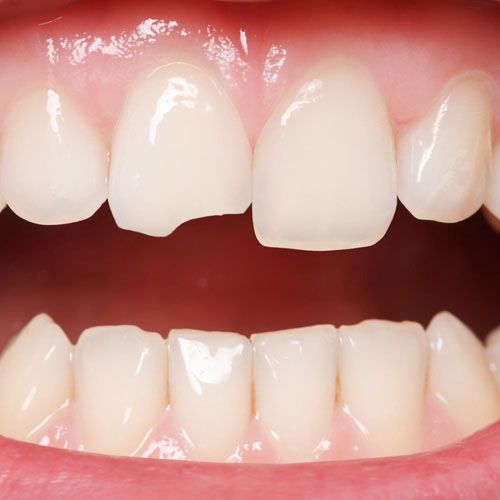 In most cases, a chipped tooth is a minor cosmetic concern and poses little risk to your oral health. In other cases, a chipped tooth may cause pain and even internal damage. If you chip a tooth, it's best to have it looked at by Dr. Joseph T. Mormino at our Staten Island, NY office. He offers a variety of cosmetic and restorative dentistry treatments for chipped teeth to give you a healthy and beautiful smile once more.
Depending on the extent of damage, you may need a simple cosmetic procedure, or you may need restorative treatment. Dr. Mormino will thoroughly examine your tooth to determine which treatment option is best for your oral health.
Cosmetic Treatments
Dr. Mormino offers dental bonding and porcelain veneers, both of which can conceal a chipped tooth and restore functionality. Although these treatments achieve similar results, the procedures and materials are different.
Porcelain Veneers: Porcelain is a strong, durable, lifelike material that can conceal and protect a chipped tooth. The veneer resembles a thin shell, which Dr. Mormino cements to the front of the chipped tooth. Porcelain veneers are a two-appointment process. In the first appointment, Dr. Mormino removes a small amount of your tooth's enamel and then takes impressions. A couple weeks later, after a lab has created your custom veneer, you will return and he will cement it in place.
Dental Bonding: Unlike porcelain veneers, Dr. Mormino can complete the dental bonding process in a single appointment. This process uses composite resin, another tooth-colored material, to restore the shape and size of a chipped tooth. Dr. Mormino simply applies the composite in layers, and then uses a UV light to harden the material.
Restorative Treatments
In cases in which a chipped tooth causes more serious structural or internal damage, a patient may need root canal therapy and a dental crown. These treatments will protect the tooth from further damage while maintaining aesthetics.
Root Canal Therapy: If the chipped tooth has resulted in damage to the pulp, or inner tissues, of the tooth, root canal therapy may be needed. With this treatment, Dr. Mormino will remove the damaged pulp to prevent infection and the need for extraction. The root canals are then disinfected and sealed. In most cases, a dental crown is placed to protect the tooth.
Dental Crown: In some cases, a chipped tooth is too severe for a veneer or bonding to be adequate. A dental crown will cover and protect the tooth from further damage while also restoring the tooth's functionality. Dr. Mormino offers porcelain dental crowns so patients can maintain a beautiful smile, and in many cases, he can create and place the crown in a single appointment.
Schedule an Appointment Today
Even if you aren't experiencing any pain, you should seek treatment for a chipped tooth. The weakened structure could put you at risk for future, more serious damage if left untreated. Contact our dental office today to schedule a consultation.
Related to This