Traditional vs. Implant-supported Dental Bridges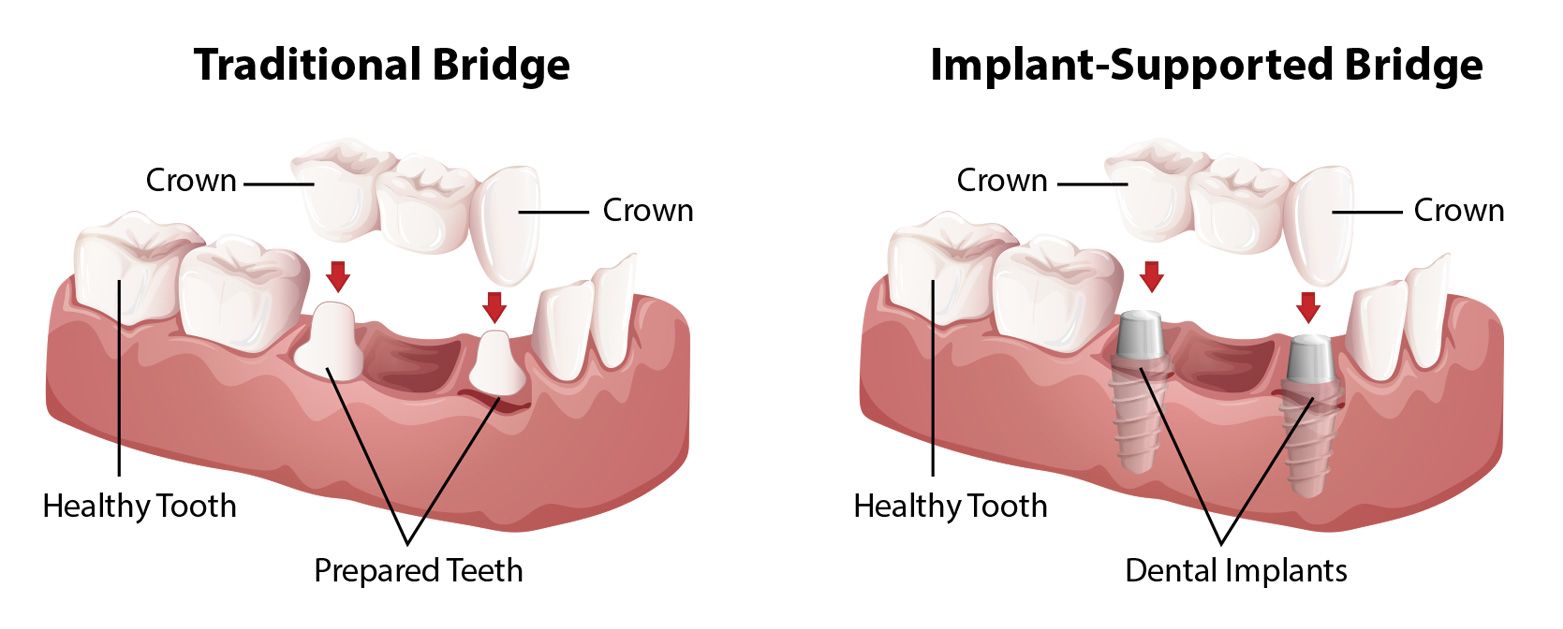 Most people are upset when tooth loss occurs. A missing tooth (or teeth) can greatly detract from the beauty of the smile and leave a person self-conscious about his or her overall appearance. However, the effects of missing teeth go much further than appearance.
A smile that has gaps is weaker and more prone to additional oral health problems, including compromised oral functions. Although patients should do everything they can do avoid tooth loss, there are many restorative dentistry treatments to repair this form of dental damage.
Dental bridges fill in the gap between the natural teeth when a single tooth, or set of teeth, goes missing. These restorations are strong and durable, and they rebuild the health, function, and beauty of the smile. At his dental practice, Dr. Joseph T. Mormino is happy to offer traditional and implant-supported bridges. Dr. Mormino explores the pros and cons of traditional vs. implant-supported dental bridges so that his Staten Island, NY patients know which technique is best-suited to their unique needs.
Traditional Dental Bridge
A traditional dental bridge is supported on either side by dental crowns. Dr. Mormino will prepare the natural teeth on either side of the gap by reshaping them so that they can be fitted with a dental crown. These dental crowns will secure the pontic piece of the bridge. The pontic is a singular piece, but it can be fabricated to resemble multiple teeth, depending on how many teeth the patient has lost. The pros and cons of a traditional dental bridge include the following:
Pros: A traditional dental bridge improves the appearance of the smile and strengthens the bite, allowing force to be distributed evenly. In short, a traditional bridge repairs the smile and offers a more secure and comfortable fit than a partial denture. One benefit of a traditional dental bridge over an implant-supported bridge is that treatment can be completed in just two dental appointments. A traditional bridge is faster and more affordable than an implant-supported bridge.
Cons: One of the only drawbacks of a traditional bridge is that it just replaces the crown of the missing tooth. This means that the jawbone will be left without the stimulation that is provided when a tooth's roots absorb the fore of the bite. While a traditional dental bridge will prevent the cheeks and surrounding teeth from losing structure, the jawbone is likely to become weaker over time.
Implant-supported Dental Bridge
Just like a traditional bridge, an implant-supported bridge consists of the pontic that is fabricated to resemble the teeth that have been lost. However, rather than being supported by crowns on the natural teeth, the bridge is affixed to dental implants. Dental implants are titanium screws that are surgically implanted into the jawbone to replace the tooth roots. The pros and cons of an implant-supported bridge include:
Pros: An implant-supported bridge is the most natural replacement a patient can find for a missing tooth. These restorations replace both the root and crown of a tooth, so it provides superior strength, durability, and comfort, while continuing to provide stimulation that will prevent deterioration of the jawbone. As an added benefit, with proper care, dental implants should last a lifetime.
Cons: The greatest disadvantage of an implant-supported bridge is the length of treatment. While a traditional bridge can be placed in just two dental appointments, dental implants require at least two oral surgery procedures, scheduled several months apart. Because surgery is involved, the cost of an implant-supported bridge is also higher than that of a traditional bridge.
Both traditional and implant-supported bridges can rebuild the smile while enhancing its strength and function.
Contact Us
If you are missing one or more teeth, a dental bridge may be the ideal solution for restoring the health, strength, and beauty of your smile. To learn more about traditional and implant-supported dental bridges, contact us at your earliest convenience.
Related to This