What Are the Different Stages of Tooth Decay?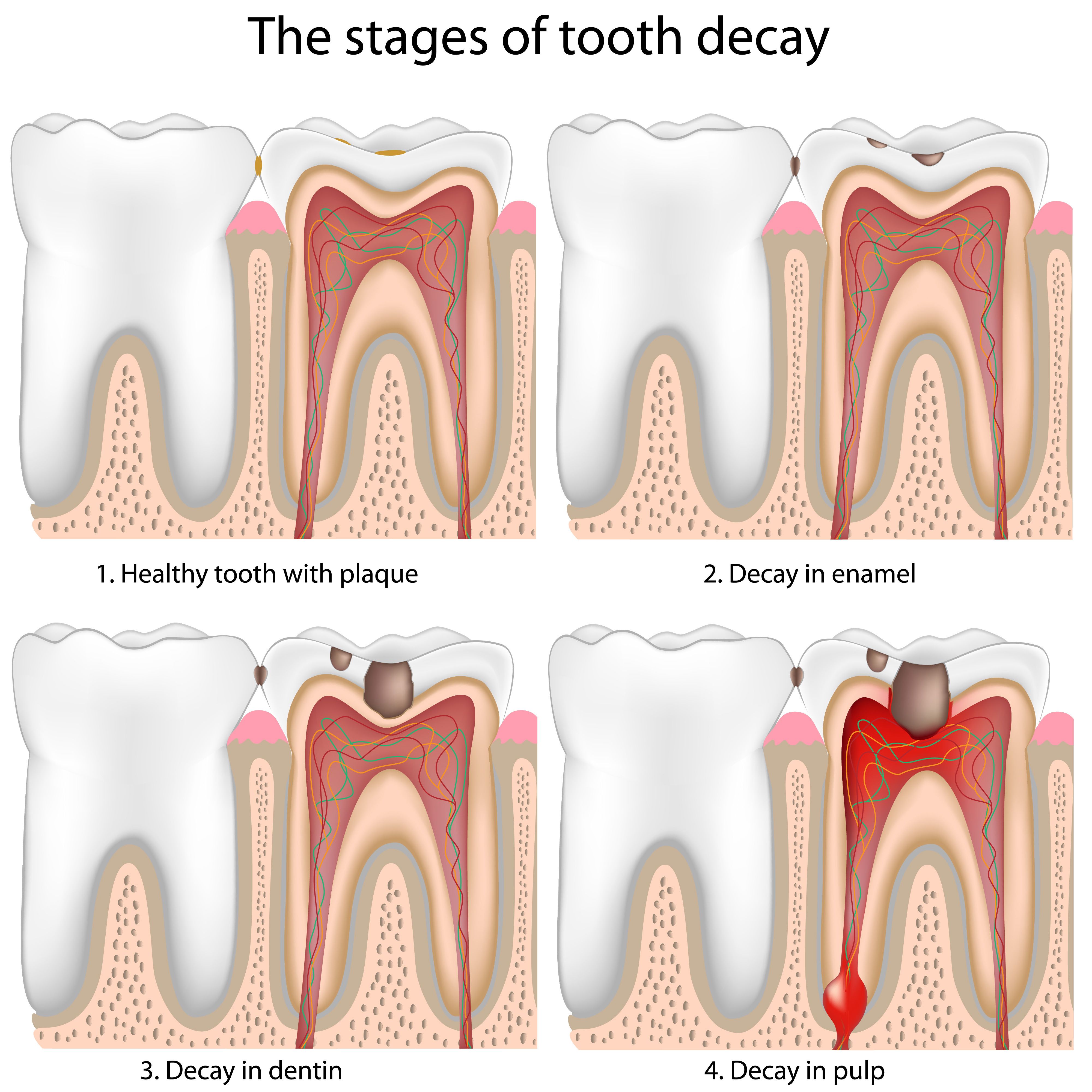 Tooth decay. It's a word no one likes to hear at the dentist's office. It often means costly and time-consuming treatments, such as a dental filling or dental crown. But did you know there's a way to prevent tooth decay from ever affecting your smile? Although following a healthy oral hygiene program and attending routine office visits are key components to keeping your pearly whites healthy and bright, understanding the different stages of tooth decay can also help.
Knowing what the different stages are and the symptoms to be aware of can alert you of when its time to schedule an appointment with your dentist outside of the normal parameters. Catching tooth decay in its earliest stages can prevent serious oral health concerns. Dr. Joseph T. Mormino provides a variety of preventive and restorative treatments at his Staten Island, NY practice to help patients maintain healthy smiles.
Stage 1 - Demineralization
This stage is usually hard to detect, especially to the untrained eye, which is why it's important to attend routine office visits every six months. Teeth within the very back of the mouth (molars) are usually more susceptible to demineralization due to their location and vulnerability to wear and tear.
As food particles remain on the surface of the teeth, they attract bacteria. During this stage, white or brown spots develop on the outer surface of the tooth. If caught early, mild remineralization treatments can be recommended to strengthen the enamel and prevent tooth decay from worsening. Treatments often include rinsing with an approved mouthwash, applying dental sealants over the chewing surface of the teeth, and limiting the intake of starchy and sugary foods.
Stage 2 - Enamel Erosion
Each tooth has several different layers: enamel, dentin, and the pulp chamber. The enamel is the outer structure of the tooth and is considered one of the strongest substances in the body. Although sturdy, if demineralization is left unaddressed, the bacteria on teeth will continue to damage the enamel, causing enamel erosion. This type of erosion, also known as a cavity, leads to small holes in the outer surface of the tooth. When this occurs, it can lead to dental sensitivity and difficulty chewing, and generally requires a dental filling.
Stage 3 - Dentin Damage
If the enamel erosion is left untreated, the underlying layers of the tooth are at jeopardy. Once the decay reaches the dentin layer, patients often experience tooth pain at varying levels. At this stage, a more aggressive form of treatment is recommended, such as an inlay, onlay, or dental crown. This type of restoration will reinforce the structural integrity of the tooth and protect it from further damage.
Stage 4 - Invasion of the Pulp Chamber
Unfortunately, once the decay reaches this stage, dental function is inhibited and traditional methods are no longer sufficient. Because the roots of the tooth have been affected, the tooth requires root canal therapy or the tooth may need to be removed. Unless the tooth is severely damaged, most doctors prefer to try and save the natural tooth before recommending an extraction. This not only helps you maintain your natural smile, but prevents costly and complex tooth replacement procedures.
Stage 5 - Abscess Formation
There is no denying there's an issue once the decay reaches this stage. Signs of infection are apparent and pain can be debilitating. If an abscessed tooth goes untreated, it can begin to impair surrounding teeth, your gums, and even the health of your jaw. A tooth extraction is generally recommended at this stage. Dr. Mormino can replace your missing teeth with one of our many tooth replacement options, including implant-retained restorations and traditional dental bridges.
Contact Us Today
If you are currently suffering from dental pain or sensitivity of any kind, please contact our office immediately online or by calling (718) 876-9100 to schedule a consultation with Dr. Mormino.
Related to This